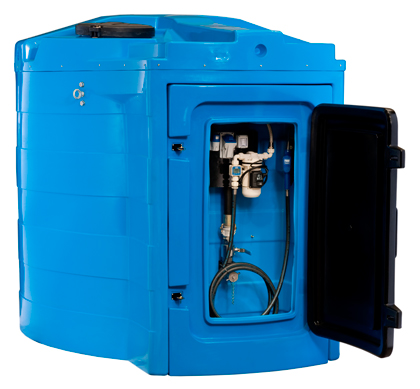 Ad-Blue Tanks
The storage of AdBlue requires specialist containment. Baltor Systems supply a range of Bunded tank only and Blue Stations which are available in a wide range of capacities up to 15,000 litres. Irrespective of model or capacity chosen, every AbBlue Bund is manufactured from a specialist grade of Medium Density Polyethylene (MDPE) and is supplied complete ready to use as soon as it is offloaded and positioned on to a suitable base.
Tanks can be supplied as bunded tanks only or tank stations which can be supplied with built in pump, delivery hose, automatic nozzle, fill point, contents gauge, overfill alarm, bund alarm all behind a lockable cabinet door.
Tank Benefits
Cheaper Bulk Storage - as well as being safer and cleaner than purchasing AdBlue in cans, drums and IBCs, the bulk storage of AdBlue can allow you to significantly reduce your costbase.
Best Storage & Dispensing Material - manufacutred from inert materials ensures no reaction takes place with AdBlue. Our tank equipment is also selected to ensure no salts form within the AdBlue.
Non Corrosive - manufactured from Medium Density Polyethylene (MDPE) your ADBLUE tank will never corrode.
Integrally Bunded - designed to protect the surrounding environment, all tanks are bunded preventing polution if the internal tank was ever to leak.
Excellent Design - easy access doors and lids with all tanks having a secure way to be locked.