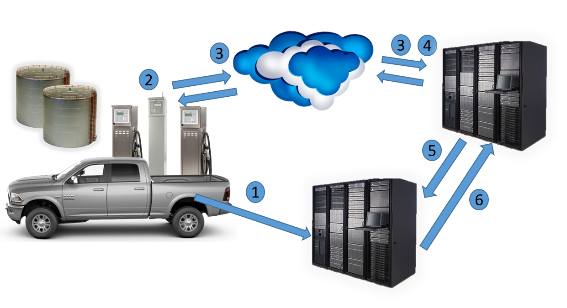 Automatic Mileage Capture using your Vehicle Tracking System
The Jigsaw system can have Automatic mileage by interfacing directly from our server to your telematics (vehicle tracking) provider's web service. The fuelling takes place as normal on the fuel island with no requirement for the driver to input a mileage.
Once completed, the fuelling transaction is sent immediately to the Jigsaw server which triggers it to request the current mileage of the vehicle from the telematics server. As the vehicle will normally send an update to its own server once the vehicle stops, the mileage data will be accurate at the time of fuelling.
If only some of your vehicles have tracking systems, that isn't a problem as the rest can be prompted to enter typed mileage ID, or to use FuelGuard Auto Mileage Capture.
Auto Mileage Capture from Telematics Overview:
1. The vehicle stops at the fuel island and turns off its ignition, this triggers its telematics system to update its server with position and mileage information.
2. Fuel Control Terminal is presented with vehicle ID.
3. The Terminal authorises the ID over the Internet via the GSM network.
4. At the end of the delivery, the fuelling details are forwarded to the Jigsaw Fuel Server in real time.
5. As the fuellings are received at the Jigsaw server, it connects to the telematics providers server with the vehicle ID.
6. The vehicle mileage sent by the telematics server is added in to the fuelling transaction on the Jigsaw server.
Accurate Mileage - Every Time
No additional "per vehicle" cost