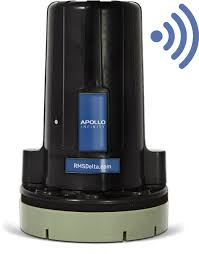 Dunraven Systems Apollo Infinity Sigfox Ultrasonic Level Measure
These units are supplied by Dunraven Systems based in Dundalk and are a low cost tank telemetry solution which are simple to install while providing a sophisticated software reporting package.
The system features automatic email warning for low, reorder levels along with an estimated days to stock runout, a stock graph history which can be filtered to specific time periods and a mapping and routing feature for oil companies that highlights geographically those tanks at reorder level to help determine tanker delivery routes.
The units can monitor a web range of products including, Diesel, Gas Oil, Kerosene, Bio heating Fuel, Adblue, lubricants, water and chemicals. The Infinity units are battery powered, simple to install and have a minimum battery life of 5 years with standard level reporting every hour. Daily level reporting by automatic email is also available.
The system is Cloud based and operates using Sigfox IoT network, which the manufacturer's state covers over 95% of Ireland. If signal is an issue the area can be tested remotely beforehand and a 3G option is available to resolve this issue.