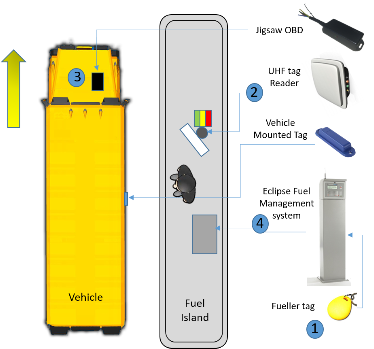 TeleTag System
The TeleTag system was designed specifically for bus Rand coach refuelling operations where vehicles are fuelled one after the other and speed and accuracy is parmount. The vehicle ID system does not interfere with the fuelling process - there are no modifications required to the nozzle so normal trigger and anti spill nozzles can be equally accommodated. Staff training is minimal - they just carry on doing what they've always done.
Key Features :
ID Only or
ID and Mileage Capture
Each vehicle is fitted with a passive, long range RFID tag. As the vehicle draws up to the pump, the tag is read, the vehicle ID'd and the pump is turned on. If required, before the pump is turned on, the user can be prompted to enter the vehicles mileage at the fuel island terminal. The TeleTag Reader can be complemented by installing our FuelGuard unit to the vehicle so that the mileage is automatically read resulting in a completely hands free fuelling ID system.
Alternatively, if the vehicle has a telematics system fitted, then the Jigsaw server can be linked to the telematics server to automatically recover a mileage with no additional hardware
Features & Benefits
Fully Integrated with the  Eclipse FM Terminal
Ideal for Bus and Coach Fueller operations
ID Only and ID with Mileage Capture Option
Ensures fuel is only delivered to authorised vehicles
No modifications to nozzle - large locking nozzles accommodated
Large status Indicator gives clear operator feedback
Speeds up Fuelling operations - just fuel and go
Low per vehicle cost for ID only option - tag simple to fit